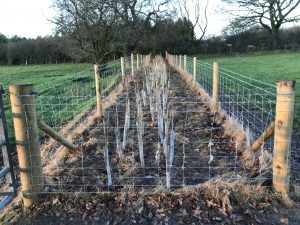 Claims for your countryside stewardship capital works can be submitted as you go along. Generally, only one claim is processed at once and they can take 6 weeks to pay so you may wish to group a few projects together before submitting a claim.
Key points to consider are:
Good photos – before, during and after. Each parcel and option will need its own set of photos. So if you have completed hedge planting with a fence in 2 parcels you need a set of hedge and fence photos for each parcel. Even if one photo shows both the hedge and fence it is easier to have separate photos for both.
Clear labelling – Each photo needs labelling with the full parcel number (all 10 digits), date taken and what option code it represents.
Invoices – Generally you do not have to send invoices with claim evidence, but it is recommended you have them to hand as they can be requested. Where you have invoices make sure they are receipted.
Bank statements – the RPA can ask for bank statement lines showing items have been paid for, this is sometimes requested for expensive items such as yard roofing, tracks and concrete yard renewal.
Dates – invoices and bank statement dates must be dated after the start of your agreement and before you submit a claim, as you should not undertake any work until you are in agreement.
Planning – For some projects e.g. roofing and concrete yard renewal you need evidence you have liaised with your local planning authority to demonstrate consultation.
Capital Claims – Top Tips for faster payments