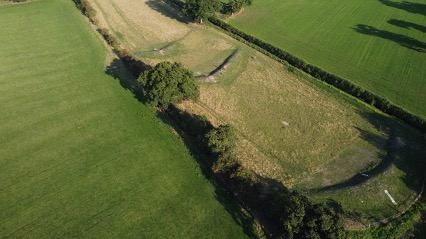 This summer has seen the completion of the second phase of the Mill Brook Project in Tattenhall, funded by Defra's grant programme to deliver Natural Flood Management measures in the region, which aims to slow the flow of watercourses to reduce the frequency and severity of flooding in communities.
The work was led by ELM Associates, in collaboration with the Environment Agency, Mersey Forest and TWiG, working with Bolesworth Estate and tenant farmer.
The work involved installation of a seepage barrier to divert high water levels in the upstream section of the site, while allowing normal flows to pass through. When water levels rise, the excess water flows into a 5ha field where groundworks were undertaken to install three curved bunds designed to hold water temporarily along the path the water will take, with the outflow percolating slowly through a wet woodland and reed beds to re-join the brook.
The installation works well with grazing management in the field, which supports the farm's sheep in the Spring and Summer. In addition, funding available through Countryside Stewardship will help support maintenance and improvement of the site with annual payments and capital works to improve habitats.
Natural Flood Management at Mill Brook, Tattenhall